MusiChild™ serves as international music and music education innovation hub and high impact intercultural musical growth system signifier.
During the initial phase of the brand, the sound material is selected from the rich pool of musical material of the distinguished music education research EU funded project Early Childhood Music Education in the Mediterranean; raising children's musicality, evaluating music learning and enabling teachers' preparation. The project was designed and coordinated by Dr Avra Pieridou Skoutella and CCRSM Cyprus Centre for the Research and Study of Music, with the contribution of universities, professional educational associations, distinguished academics and professional music education trainers from the Euro-Mediterranean region. This sound material has been ranked among the most successful in music learning and has been embraced and loved by hundreds of children, their teachers and parents across the Euro-Mediterranean region.
European Recognition: Invited Presentation of the project and the publication Mediterranean Musical Cradle at the European Erasmus+ Conference «Paths towards European Citizenship through Cultural Heritage», September 2018, Palermo, Italy, where the publication was awarded the logo of the European Year for Cultural Heritage 2018.
MusiChild™ Publications constitute an international innovation for the engagement, sustainability, protection and promotion of European shared cultural heritage with special focus in the Mediterranean musical heritage and its universal relevance in contemporary times.
MusiChild™ Publications:
- embrace cultural heritage as a pivotal component of cultural diversity and heterogenity, inter-cultural dialogue and human relating,
- employ high quality musical performances and the latest technological advancements,
- cultivate musical skills, poly-musicality, multicultural confidence and self-esteem, language, transcendental imagination and positive emotions,
- improve intercultural consciousness and the skills for human cultural and musical expression, creativity and communication.
Since MusiChild™ establishment (2018), its multi-lingual publications Mediterranean Musical Cradle and Mediterranean Cumulative Songs for Children creatively utilise sound material from the following localities: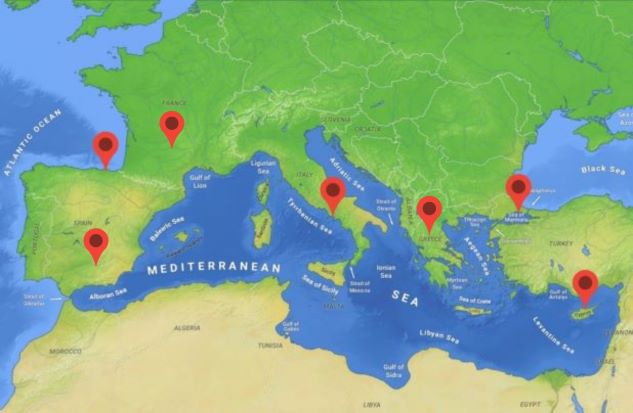 These publications are available at special quantity discounts for (a) bulk purchases, (b) transnational synergies in publishing and/or re-publishing them. For details write This email address is being protected from spambots. You need JavaScript enabled to view it. or call CCRSM administrator Nicos at (+357) 99628378.